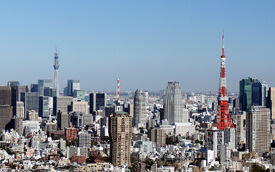 Tokyo, one of the 47 prefectures of Japan, has served as the Japanese capital since 1869. As of 2014, the Greater Tokyo Area ranked as the most populous metropolitan area in the world. The urban area houses the seat of the Emperor of Japan, of the Japanese government and of the National Diet. Tokyo forms part of the Kantō region on the southeastern side of Japan's main island, Honshu, and includes the Izu Islands and Ogasawara Islands.
The 23 Special Wards of Tokyo were formerly Tokyo City. On July 1, 1943 it merged with Tokyo Prefecture and became Tokyo Metropolis with an additional 26 municipalities in the western part of the prefecture, and the Izu islands and Ogasawara islands south of Tokyo. The population of the special wards is over 9 million people, with the total population of Tokyo Metropolis exceeding 13.8 million. The prefecture is part of the world's most populous metropolitan area called the Greater Tokyo Area with over 38 million people and the world's largest urban agglomeration economy.
It has appeared and also used in countless RPs, due to being the Japanese capital, and has appeared in countless kaiju films produced in Japan.
History
And many more...
Landmarks
Tokyo Tower
National Diet Building
Rainbow Bridge
Tokyo Skytree
Godzilla Head
And many more...
Trivia
As the largest population center in Japan and the site of the country's largest broadcasters and studios, Tokyo is frequently the setting for many Japanese movies, television shows, animated series (called anime), web comics, light novels, video games, and comic books (called manga). In the kaiju (or monster movie) genre, landmarks of Tokyo are usually destroyed by giant monsters such as Godzilla and Gamera.