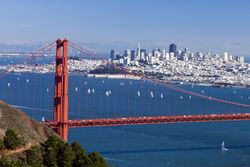 San Francisco is the cultural, commercial, and financial center of Northern California which is located in the United States, The city and its surrounding areas are known as the San Francisco Bay Area.
A popular tourist destination, San Francisco is known for its cool summers, fog, steep rolling hills, eclectic mix of architecture, and landmarks, including the Golden Gate Bridge, cable cars, the former Alcatraz Federal Penitentiary, Fisherman's Wharf, and its Chinatown district. As of 2018, San Francisco is the highest rated American city on world liveability rankings.
It is also a location used in RPs. Over the course of several months after it was introduced, it has been destroyed, rebuilt, and destroyed again multiple times.
Name
The original name of the town was taken from the yerba buena (Micromeria douglasii) plant, native to the pueblo site. Franciscan missionary Pedro Font, accompanying the Juan Bautista de Anza expedition of 1775-76, applied the Spanish name to the common native herb he found abundant in the landscape. The plant's common name, yerba buena, the same in English and Spanish, is an alternate form of the Spanish hierba buena (meaning "good herb").
"San Francisco" is Spanish for "Saint Francis", which was named after Saint Francis of Assisi, after colonists from Spain established Presidio of San Francisco at the Golden Gate and Mission San Francisco de Asís a few miles away. Yerba Buena was renamed San Francisco on January 30, 1847.
History
2013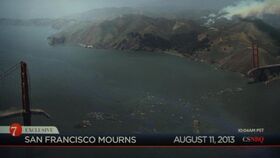 August 10, 2013 - Trespasser, the very first kaiju to emerge from the Breach, attacked San Francisco on August 10, 2013.
2015-2016
April or May 2015 - 15Goji fought X-Plus ShodaiGoji, and then fought One-Eyed Baragon and 15Goji was killed.
March 4, 2016 - Bombshock and his forces bombarded and attacked the city, Hardshell and his allies later came and chased them off.
July 2, 2016 - ReginaGoji, DesireeGoji, and JanineGoji fought Female SpaceGodzilla.
July, 2016 - Kunin, Rozan, IguanaGoji, and ReginaGoji appeared in the city to adopt Little Godzilla, but destroying both Golden Gate Bridge and the San Francisco-Oakland Bay Bridge in the process.
July 19, 2016 - The first part of Revenge for DesireeGoji event happened in the city.
December 2, 2016 - CenturyDesutoroia attacks the city, while AlenaGoji and Meesmoth tried to stop him.
2018
April 5, 2018 - Female SpaceGodzilla returns on causing destruction in the city, but Kyurem, CenturyBato, AlenaGoji, and SophiaGoji tries to stop the SpaceGojiran.
April 16, 2018 - CenturyDogora grabs the Golden Gate Bridge and then drops it at the city, before leaving.
April 20, 2018 - Ookeyara attacks the city and destroys the Golden Gate Bridge, but AlenaGoji appears and later causes the giant octopus to retreat after their battle.
April 27, 2018 - King Ghidorah III wreaks havoc in the city, but Godzilla 1974 and AlenaGoji appears and tries to stop him, but the two fell in love during the battle.
October 24, 2018 - The third part of Meesterian Invasion II event happened in the city.
October 26, 2018 - November 4, 2018 - The fourth part of Meesterian Invasion II event happened in the city.
November 5, 2018 - The fifth part of Meesterian Invasion II event happened in the city.
Residents
Landmarks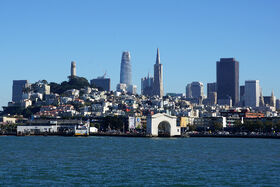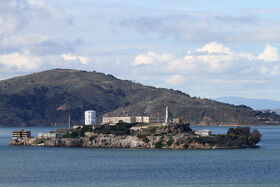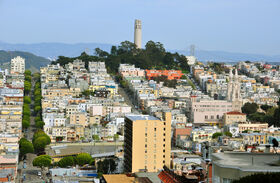 Golden Gate Bridge

Fort Point (located underneath of the bridge)

Embarcadero District

San Francisco-Oakland Bay Bridge
San Francisco Ferry Building
Fisherman's Wharf
Pier 39
AT&T Park

Financial District

Transamerica Pyramid
555 California Street
Salesforce Tower
Transbay Transit Center
Union Square
The Tenderloin

Telegraph Hill
Japantown
San Francisco City Hall
Portsmouth Square
Golden Gate Park
Alamo Square Park
South of Market
Nob Hill
Palace of Fine Arts
Presidio of San Francisco
Sutro Tower
Twin Peaks
Chinatown
Market Street
Van Ness Avenue
Russian Hill
Alcatraz Island
Yerba Buena Island

Yerba Buena Tunnel
Treasure Island

San Francisco cable car system
Heritage Streetcars

F Market & Wharves
E Embarcadero

Muni Metro
Bay Area Rapid Transit
San Francisco International Airport
And many more...
Gallery
Trivia
This city has almost the exact same "issues" that New York does, as both are constantly picked for RPs and major events and are constantly rebuilt without anyone saying they are.
The city is very known for the Golden Gate Bridge which is a suspension bridge spanning the Golden Gate, the one-mile-wide (1.6 km) strait connecting San Francisco Bay and the Pacific Ocean. Built in 1937, it has been destroyed countless times in each time San Francisco appears in RPs.