Used by
Allies
Enemies
Species
Age
Height
Length
Faction
Category
Cherno Alpha (Черный Альфа Cherniy Alfa) is an upgraded Mark-I Jaeger and RP character used by JadgVlady.
Personality
Cherno Alpha is one of the biggest, heaviest, best armored and slowest moving Jaegers. Strong, resilient and brave, Cherno Alpha is a very tough soldier-like Jaeger.
History
To be added.
Abilities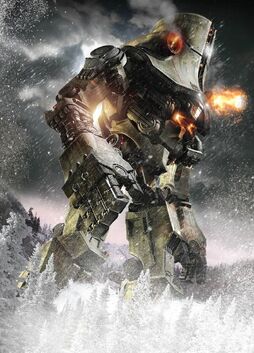 Turbines: Cherno Alpha has head mounted Incinerator Turbines that he can use to open fire at enemy kaiju.
Z-14 Tesla Fists: Cherno Alpha possesses Z-14 Tesla Fists.
Feet Spikes: Cherno Alpha has sharp spikes on it's feet that can be used to stab or cut against enemy kaiju. It's not used much however.
Super Strength: Cherno Alpha is very strong, even stronger than most Jaegers and can deliver powerful punches and kicks.
Enhanced Durability: Cherno Alpha is very durable.
Trivia
Cherno was originally owned by Lord Vehk, then by LSDKama, then to Gallibon the Destroyer and now is used by JadgVlady. This makes him arguably the Jaeger to have been used by the most users.
In Russian dub its name is "Cherniy Alfa" (Black Alpha). "Cherno" is the short form of the adjective and doesn't agree with a noun in that case. "Черно" is pronounced as "chyerno". For "cherniy" to be accurate as a transliteration, it would have to be spelled "Черный", which is Russian for "black."
"Cherno Alpha" is a reference to the Slavic demon Chernobog. Concept art of the Jaeger's leg joints reveal Cherno Alpha was originally named "Chernabog Alpha"
Theme